School of Studies in Physical Education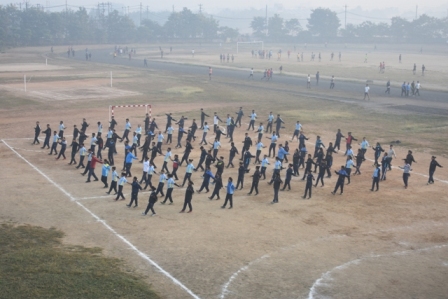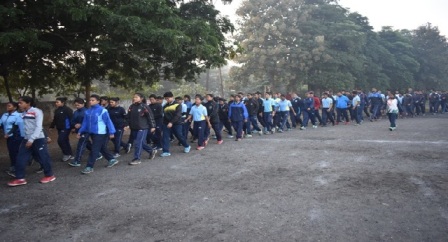 Physical Education
School of Studies in Physical education was established in the year 1972. since its inception, School of Studies in Physical Education is continuously thriving to give trained physical education personnel. The Physical Education Course is the basis of all round development of a person and the Physical Education curriculum not only gives theoretically and practically sound Physical Education teachers but also gives opportunity to serve in the allied areas related with health and fitness.

Physical Education Infrastructure
Outdoor Facilities
1. Standard Athletics Track
2. Football Ground
3. Handball court
4. Basketball Courts
5. Kabaddi Field
6. Kho-Kho Field
Indoor Facilities
1. Volleyball Courts
2. Tennis court
3. Table Tennis
4. Badminton courts
5. Multi Gym
6. Trampoline
7. Gymnastic/ Judo/ Wrestling
LABORATORIES
Exercise Chronobiology Lab.
1. Actiheart minimitters, USA
2. Minilogger Softwares
3. Cosinor Software for Circadian rhythmometry.
4. Facilities for various Physiological, Physical Performance and Psychological test, Facilities available to measure circadian rhythms.
Physical Facilities for learning
Sports Medicine & Physiotherapy lab.
1. Short Wave Diathermy
2.Ultrasound Therapy
3. Combined Traction Unit-motorised
4. Inter Ferrential Therapy Unit
5. Combined Faradic Galvanic Muscle Stimulator
6. Shoulder Wheel
7. Pronator Supinator Exerciser
8.Quadriceps Table
9. Ankle Exercisers
10. Continous Passive Motion ( Lower Limb)
11. Contrast Bath Unit
12. Pulse Electro Magnetic Unit ( Diapulse )
13. Paraffin Wax Bath
14. Grip Exercisesers.
Sports Physiology Lab. Equipments
1.Heart Rate Monitor
2.Ambulatory Blood Pressure Instrument
3. Actiwatch
4. Stationary Breath by O2-CO2 Analyzer
5. Treadmill
Sports Anthropometry Lab
1. Electronic Stop Watch ( 20 Memory )
2. Digital Weighing Machine
3. Digital Body Fat Monitor
4. Digital Height Measurment Device
5. Goniometer Set
6. Anthropometry Set
7. Grip Dynamometer
8. Back Dynamometer
9. Other Measurment Devices.
Sports Psychology Lab.
1. Digital Memory Scope
2. Electronic Depth Perception Tester
3. Bassin Anticipatory Timer
4. Digital Mirror Tracking Apparatus
5. Flicker Fusion Apparatus
6. Audio Visual Reaction Time Apparatus
7. Digital Type Discrimination Reaction Tester
8. Rhythm Mertronome
9. Psychological Test Meterials
Education Lab
1. Computers With Printers
2. Digital Audio/Video Recorder
3. Sports and Physical Education Related Software
4. A 3 Laser Photocopy Machine - Work Centre
5. Projector
6. Other Teaching Aids
Additional Facilities Which Can Be Attached To The Gym
1. Sauna Unit
2. Steam Bath Unit
3. Aerobic Exercise ( Cardio Gym) Room
Postal Address
Head

School of Studies in Physical Education

Pt. Ravishankar Shukla University
Amanaka G.E. Road,
Raipur - 492010
Chhattisgarh, India